KOFICE 'Korea Joa Project': Hangul Celluloid Travelogue
The Korean Film Archive
Wednesday, 7 October 2015 (KOFICE Korea Joa 'Free Coverage' Day): The Korean Film Archive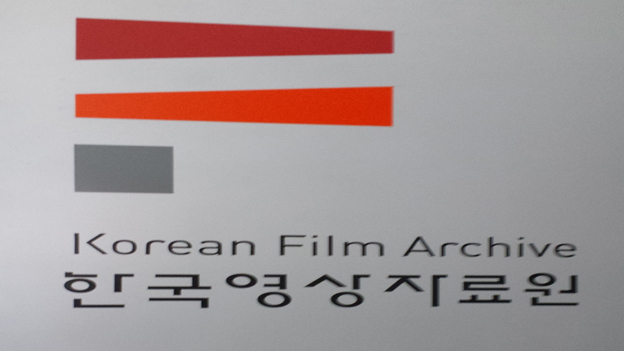 For those with an interest in Korean cinema, the importance of the Korean Film Archive (KOFA) cannot be overstated in any way whatsoever, whether you consider the organisation's preservation, restoration and (more recently) digitisation of Korean films for posterity; focus on the KOFA YouTube channel which gives free online screening access to Korean films both classic and indeed rare from as far back as the 1930s; concentrate on the Archive's regular publication of academic and referential resources relating to any and every aspect of Korean cinema you could care to mention; or simply cite KOFA's Korean movie databases as vital reference material.

As such, for me personally, no trip to Korea would or could be complete without a visit to this veritable Korean film Mecca and with the KOFICE Korea Joa Project members given a 'Free Coverage Day' on 7 October – to concentrate on coverage relating specifically to their chosen Korean cultural fields – that very visit was set to finally become a reality for yours truly. Having mentioned my KOFA visit plan to other Korea Joa members, Lisa from HanCinema expressed an interest in joining me and so, as her schedule that day was fairly intense to say the least, we arranged to meet at the Archive in the afternoon.

The main Korean Film Archive building is situated in Sangam-dong, Seoul, which is a fair distance from the Ritz Carlton Hotel where the Korea Joa members were based, though as you're about to discover even if it had been just round the corner and two minutes up the road, I'd still have said 'a fair distance'. Lisa and I had briefly discussed the best way of travelling to the Archive by public transport but I'll be honest and admit that on the morning of the 7th the 'geographically challenged' section of my brain – I have directional issues – was rather flooding my thoughts with "You'll get on the wrong train. You'll get on the wrong line. You'll end up in the wrong place in the wrong city, in possibly the wrong country" almost to the exclusion of anything else. So, to circumvent any possible conversation about why I wasn't where I was supposed to be, I decided to take the easy way out and get a cab directly there. And while we're on the subject of my 'issues', my dear departed father left me with a legacy of having to arrive everywhere stupidly early – better safe than sorry, as he would put it – so even though I wasn't meeting Lisa until 3pm, I was outside the archive shortly after 1pm. But, hey, from a personal point of view at least I was there and I can console myself with the knowledge that dad would have been deeply proud.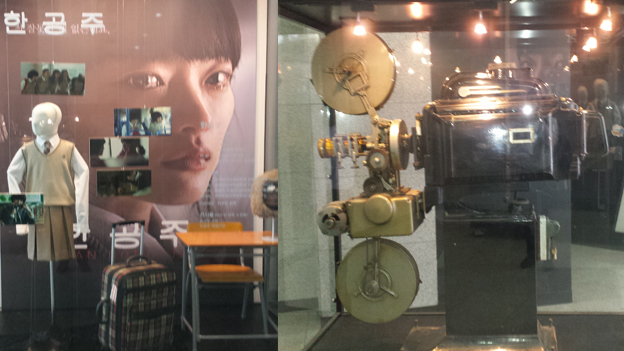 The Korean Film Archive itself is split into four floors: The Korean Film Museum, the KOFA library; the 'First Film Vault'; and KOFA (private) work offices.
First, to the library and though time didn't allow for an in-depth look at the absolute plethora of Korean Cinema books and publications available for reference, I did take it upon myself to check whether Intellect Books' Directory of World Cinema: South Korea (for which I wrote the Romantic Comedy genre overview and several reviews) was featured. It wasn't, a fact I pointed out to the library staff who politely smiled and made a note, while frankly looking at me like I was one of those odd people who walk around ranting about 'The End of Days' to themselves and random inanimate objects. Point made, I think.

The Korean Film Museum was, of course, the major port of call.
A peanut-shaped Grand Exhibit Hall consists of two arenas, two special exhibit sections, two small exhibition rooms, and a small theatre. The Grand Exhibit Hall's walls are devoted to a permanent display entitled 'Travel in Time across Korean Cinema', presenting four distinct periods in Korean film history through a series of permanent exhibits – from the very first emergence of Korean film as an entity, through the Golden Age of the 60s, to the Korean Cinema Wave of the late 90s and, ultimately, Korean Cinema of the present day – including a 'Music Box' corner with original soundtracks and numerous classic Korean cinema movie posters. Two special exhibit sections feature a display devoted to the representation of women in Korean films (a personal obsession of mine) and a special section called 'All About Moving Images', a room for exhibits that outline the principles behind the production of and restoration of movie images. The history of Korean animation is also featured in a hugely colourful, child-friendly room with 'hands on' interactive exhibits and screens. Not only that, but an exhibition space at the very centre of the spiralling walkway within the 'peanut' consists of a specially constructed cinema setting where visitors can experience the ambience of a silent film theatre. Finally, in the Museum Shop visitors can buy all the books published and all the DVDs released by the Korean Film Archive as well as souvenirs related to films.


Situated throughout the 'Travel in Time across Korea Cinema' display, numerous glass cases are featured housing film publications from the relevant periods, film scripts, cameras and movie props (for example, a focus on 'Han Gong-ju' complete with the titular character's school uniform, and a huge display of costumes from 'The Admiral: Roaring Currents') to the extent that any descriptive listing rather needs visual accompaniment to detail it accurately. As such, at the end of this article you'll find a short (five minute) video of my journey around the Korean Film Museum.


One slight issue I did have with the Korean Film Museum is the fact that the entirety of the 'Travel in Time Across Korean Cinema' display is written in Korean only, apart from some sub-headline category titles. There is an 'audio tour' available in English, via mp3 players handed out to visitors, but if I can be honest it is rather 'dry' (I made it through about ten minutes, Lisa slightly longer). Yes, the notable facts are there, spoken for each exhibit entry, but the audio shows no passion at all and I couldn't get away from the thought that it had been read by a random individual from cue cards rather than being told by someone with a knowledge of just how important the mentioned points were and are to the entire history of Korean cinema. The huge ongoing efforts made by KOFA to promote Korean cinema internationally (the entire collection of hugely important movies on the KOFA video channel all have English subtitles, for example, as do KOFA released DVDs, not to mention the many KOFA Korean film books written in English) makes the choice of only having text in Korean on the museum walls utterly counterproductive, to my mind.
Sure, I understand that the Korean Film Archive is in Seoul and the majority of visitors will be Korean but surely having text in English too wouldn't be that big an undertaking and as such international visitors (of which I'm sure there are many) would be able to immerse themselves in this vital history of Korean film far more easily.


The one area of the Korean Film Archive I was unaware of was the 'First Film Vault'. The first mention of it I had ever seen was in the KOFA lift itself and curiosity being what it is a final journey to the third floor was entirely necessary. On exiting the lift, Lisa and I found ourselves in a small 12ft x 6ft area with a pile of incredibly old, film cans piled up in a pyramid. Was this the vault itself or was there also a door leading to another area? At this point, I can't be sure because a KOFA female employee quickly appeared to politely tell us that this floor wasn't for the general public's use. If I'd been more focused, I'd have taken a picture before we headed back downstairs in the lift… but perhaps that's a mission for another day.
Once again, many thanks to KOFICE for choosing Hangul Celluloid as one of the Korea Joa Project members and providing an unforgettable ten days experiencing Korean culture, first hand.
Click the links below to access the other Hangul Celluloid Korea Joa Travelogue articles, on a day-by-day basis: