"Life is what happens when you can't sleep..."


Synopsis:
2015: Hyun-soo (Kim Yoon-suk) is a medical surgeon suffering from terminal lung cancer. Though he has a beautiful daughter, Soo-ah (Park Hye-soo), from a subsequent, albeit brief, relationship, he has been unable to forgive himself for being unable to prevent the death of the love of his life, Yeon-ah (Chae Seo-jin), a death he feels wholly and entirely responsible for. While volunteering at a remote Cambodian village, Hyun-soo fixes the cleft palate of a young child and is given a vial of golden pills as a thank you, along with the question "Is there anything you dearly wish for in life?"
On taking one of the strange tablets – out of curiosity, more than anything else – Hyun-soo finds himself transported 30 years back in time to 1985, for a short period, coming face-to-face with his younger self (played by Byeon Yo-han) in the process, and he soon realises that his newfound ability to time travel could enable him to prevent Yeon-ah's death before it occurs.
However, as older and younger Hyun-soo team up to save the woman they both love, the question quickly becomes how changing the past will affect the present and indeed the future...
Review:
Over the years, the Korean cinema and television industries - even more so the latter - have made a number of forays into the sci-fi based time travel genre, more often than not wrapping the idea within an otherwise fairly normal drama or thriller, to the extent that 2016 saw the release of not only 'Will You Be There?' but also 'Time Renegades' (directed by Kwak Jae-young) and 'Vanishing Time: A Boy Who Returned' (directed by Uhm Tae-hwa). However, while 'Will You Be There?' by its very nature fits perfectly alongside any number of these, there is another entirely separate, utterly classic Korean cinema trope that stands every bit as much as a lineage to female director Hong Ji-young's screenplay:
Throughout the New Korean Cinema wave of the late 90s and early 2000s, numerous films emerged that could be generally described as stories of love across time – tales of romantic relationships between two individuals in different times enabled by some otherworldly 'thingamajig' (to use a technical term), be it The Gingko Bed's enchanted bed (obviously); Il Mare's magic mailbox; Ditto's ham radio broadcasts across time; or even Failan's letters linking a man to the already deceased love of his life, a woman he has never met. In fact, so prevalent were these cinematic tales of lovers in separate time periods linked and inexplicably able to interact that the idea of Love Across Time virtually became a Korean cinema sub-genre in its own right.
The strange golden pills in 'Will You Be There' that enable Hyun-soo to step back in time to see Yeon-ah still alive, and indeed give him the chance to save her, are exactly that otherworldly element so often seen in such NKC films, allowing Hong Ji-young's narrative to feel utterly classic from start to finish.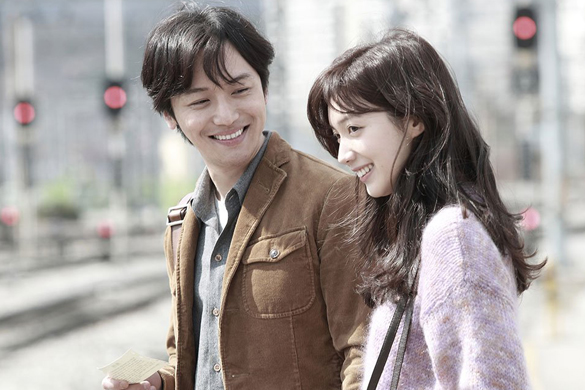 It could, of course, also be said that Hyun-soo suffering from terminal lung cancer allows the film to fit with the absolute plethora of NKC terminal illness stories – 'Christmas in August', '...ing', 'Happiness', 'Lovers' Concerto', etc etc etc – but while this aspect of 'Will You Be There?' is certainly vital to the film's conclusion and thereby important overall, to my mind it isn't ultimately anywhere near as close to a narrative raison d'etre (if you will) as was the case in any one of the aforementioned examples.
In the early stages of 'Will You Be There?', director Hong Ji-young perfectly juxtaposes the sheer sweetness of younger Hyun-soo's relationship with Yeon-ah (the love between the characters being wholly palpable) with the regrets of his older self - a man with very little time left who has been unable to forget her for 30 years, still having a tattered photograph of her in his wallet and blaming himself entirely for her death.
Not only that, but the narrative tackles the paradox of time travel head-on, bringing a poignancy to proceedings as older Hyun-soo realises that saving Yeon-ah in the past would allow their relationship would continue and - even though that's all he's ever wanted - would also mean that Soo-ah (the daughter who means the world to him) would never be born. When younger Hyun-soo demands help in saving Yeon-ah (threatening to ruin his older self's life if he refuses), the older Hyun-soo imposes a series of conditions forcing a sacrifice from the younger man, the very fact that the two are the same man years apart meaning that sacrifice will also have to be faced by older Hyun-soo.
As such, the subtle sub-plot layering within the narrative of 'Will You Be There?' has a depth far beyond that of any average romantic melodrama, in the process inviting viewers to ask themselves if they could go back in time what would they change and indeed what would they ask of their younger selves?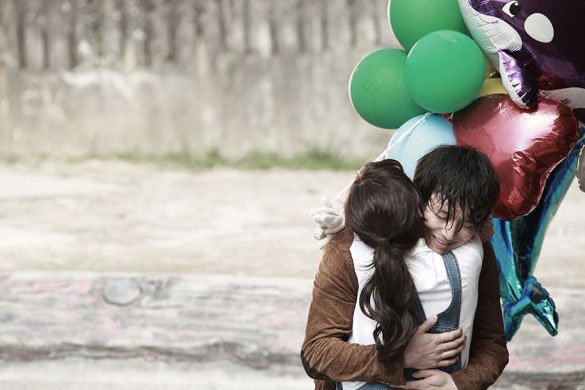 Hong Ji-young also peppers this genuinely moving story with gentle moments of humour to lighten the load. Mostly, these come in the interactions between young Hyun-soo and his policeman friend Tae-ho and his demands on him that repeatedly prevent him from getting intimate with a young lady, but also in the hugely original means by which young Hyun-soo contacts his older self in the present - for example, the younger man getting a tattoo saying "Please visit", leaving older Hyun-soo with a tattoo he hates and frustratedly feeling he can no longer wear T-shirts - in the process standing almost as an homage to the aforementioned means by which past and present individuals interact in classic 'Love Across Time' cinematic tales.
Ultimately, 'Will You Be There?' is a nuanced tale of hope and regret, the often harshness of hindsight, and the need to consider how our present-day actions will affect the future. After all, the present will all too soon be the past and without strange golden pills what's been and done cannot be changed.
The screenplay for 'Will You Be There?' (written by Hong Ji-young) is based on Guillaume Musso's French novel Seras-tu là?, with its setting moved (obviously) to Korea. Film industries from a number of countries approached the author in the hope of acquiring the cinematic rights to the story, with Musso ultimately choosing Korea and subsequently stating that he remained sure he'd made the right decision and was wholly pleased with the result. Whether the fact that Seras-tu là? so easily fits within the aforementioned numerous genres of classic Korean cinema played a part in the decision for Korea to be allowed to make the film is something only Musso could confirm or deny, but either way Hong Ji-young has produced a cinematic version of a novel that wholly succeeds on both a specifically Korean and generally international level.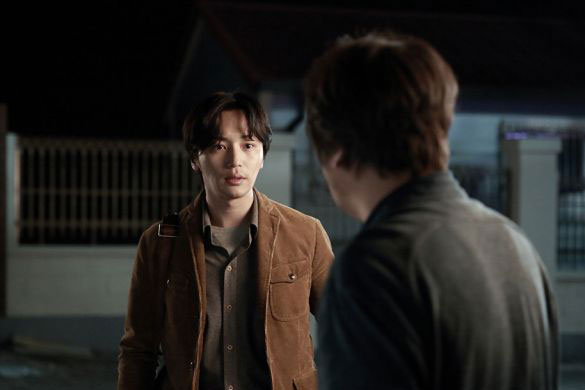 Summary:

Based on Guillaume Musso's French novel Seras-tu là?, director Hong Ji-young's gently engaging 'Will You Be There?' fits so well with a number of utterly classic Korean cinema tropes, genres and sub-genres that it wholly succeeds on both a specifically Korean and generally international level.

You can read the 2012 Hangul Celluloid interview with actor Kim Yoon-suk by clicking here

WILL YOU BE THERE? (당신거기있어줄래요) / 2016 / directed by Hong Ji-young