"I'm crazy, aren't I? I want to poke out girls' eyes when they just look at you... Sorry for always having the same boring face."


Synopsis:

Seh-hee (Park Ji-yeon) is in a sexual relationship with Ji-woon (Ha Jung-woo), but is becoming greatly frustrated by his easy-going, rather flirtatious interactions with other women, and his obvious popularity with the opposite sex. Increasingly believing that he must be bored with her, and her looks, she takes the drastic action of disappearing from his life and checking into a plastic surgery clinic to undergo an operation to make her face "different, not prettier". Six months later, Ji-woon meets a woman calling herself See-hee (Sung Hyun-ha), who has started working at the local cafe, and while he is still somewhat pining for Seh-hee and hoping that she will return, he finds himself quickly falling for this beautiful lady. However, no sooner does their relationship begin to get underway in earnest, than Ji-woon receives a note from Seh-hee, telling him that she still loves him...
Review:
While the opening scene of Time, graphically showing a facial plastic surgery operation in progress, implies a film depicting the increasing trend for, and popularity of, plastic surgery among ordinary members of the public (both in Korea and, in fact, in countries throughout the world), Time is much more a discussion of self-perception; our assumptions as to the way in which we are perceived by others; how much image and appearance affect those perceptions; and the resultant choices they 'force' us to make.
Seh-hee's insecurity about Ji-woon's feelings for her and her jealousy of other women begin as simply a paranoid fear in her mind and, though she tries to find various ways to allay her concerns, almost every step she chooses to take just seems to reinforce her belief that her assumptions are based in fact (for example: when Ji-woon cannot manage to 'perform' in bed, she tells him to imagine he's with one of those 'other women'; subsequently berating him for having sex with her while thinking of someone else), and as her mental issues drive her to increasingly drastic measures in her desperation to find happiness and contentment with Ji-woon, she creates almost a self-fulfilling prophecy - making her nightmares flesh, literally:
Once she undergoes the facial plastic surgery, the fact that only her physical appearance has altered just results in her problems growing exponentially - if Ji-woon falls for her as the woman she appears to be on the outside (See-hee), the person she still is inside (Seh-hee) can only feel betrayed, and, likewise, if he continues to be in love Seh-hee, See-hee will still be convinced that he loves someone other than the woman she now physically is.



| | |
| --- | --- |
| | |
Kim Ki-duk's depictions of women within his films (and the physical and psychological abuse to which he regularly subjects his female characters) have previously led to criticism, and even accusations of misogyny, in his home country, and though these issues are less prevalent in Time than in some of his other work, it does have to be said that the majority of characters with 'issues' within the film are female, while male characters are largely shown to be relatively normal men with natural needs and libidos. Even though Seh-hee's mental abuse is largely self-inflicted, it is present all the same, and each time she attempts to vocalise her pain, she is portrayed as a rather paranoid and unstable woman, attacking Ji-woon for betrayals of which he is, at least to an extent, innocent.

There is, however, one beautifully heart-wrenching moment within Time (to my mind, the most poignant moment in the entire film) which shows the other side of the coin:
Ji-woon attends a day out with some friends (a blind date scenario, if you like) and is paired up with a girl in whom he clearly isn't interested. She is instantly aware of the fact - even pointing out that men are always attracted to other more strikingly beautiful women than her (yet more image-based female issues) - but as their evening ends, she suggests that she and Ji-woon should stand back-to-back, count to three, and, should they choose to look back at each other, they will agree to go out on another date in the future. Her actions (when the counting reaches three) clearly show that beauty really is only skin deep, and speak of a woman who retains pride in herself - in spite of the times she has obviously be spurned in the past - and is prepared to take whatever painful actions are required to prevent her from being hurt further in the future - an utterly perfect cinematic moment which will stay with viewers long after the credits roll, more than any other.



| | |
| --- | --- |
| | |
Plotwise, the first half of Time is noticeably stronger than the second and, in the latter stages (as with many of Kim Ki-duk's films) he is somewhat more focused on getting the characters into specific situations, than on the means by which the plot actually gets them there.
As such, how much Time appeals to individual viewers is rather dependent on whether they are willing to overlook slightly illogical character motivations and allow Kim Ki-duk to take them where he will, or, conversely, become hung up on the specific 'whys' involved.
At the end of the day, while Time is unlikely to change a person's opinion of either Kim Ki-duk or his work, fans of the director will certainly find plenty here to become immersed in, and subsequently discuss.
Finally, by using exactly the same scene in both the early and latter stages of the film (shown from a different perspective each time), Kim Ki-duk deftly shows that though a complete change in outer appearance may initially feel like a new beginning, it, in fact, changes nothing, and simply leaves the person beneath the 'mask' doomed to make and repeat the same mistakes.
| | |
| --- | --- |
| | |



Cinematically, Time also easily ticks all the boxes of a Kim Ki-duk film. Stunning visuals - especially in scenes of the wonderful sculpture park where Ji-woon and Seh-hee (and subsequently See-hee) regularly visit(ed) - and hand held camera work combine to give almost a feeling of being a voyeur on proceedings and, when focused on Seh-hee/See-hee, even add to the depiction of her mental issues, neuroses and instability.



Summary:

More a discussion of perception than a depiction of the increasing trend for plastic surgery, Time ably shows that a physical change in appearance only scratches the surface, literally, of who a person is and the mental issues they have.



Cast:
Sung Hyun-ah, Ha Jung-woo, Park Ji-yeon, Kim Seong-min, Seo Ji-seok
Written and Directed by: Kim Ki-duk




Region 3 DVD:

The DVD edition reviewed here is the Korean (Region 3) Single Disc Edition from KD Media, which has as an anamorphic transfer with an aspect ratio of 1.85:1.
The DVD itself comes encased in a deluxe case containing a standard amaray package. A booklet (written in Korean) describing the contents of the DVD is also included.
Image quality is exemplary with an impressively clean print being used for the transfer. There are no image artifacts present and the picture really does justice to the visuals, especially in scenes taking place in the sculpture park.
The original Korean language soundtrack is provided as a choice of Dolby Digital 5.1 and Stereo 2.0, and each is crisp and clear.
Excellent subtitles are provided throughout the main feature, but English speaking viewers should note that there are no subtitles available on any of the extras.


Region 3 DVD Details:
• Director: Kim Ki-duk
• Format: NTSC, Anamorphic, Widescreen, Subtitled
• Language: Korean
• Subtitles: English/Korean/None
• Sound: Korean 5.1 Dolby Digital, Korean Stereo 2.0
• Region: Region 3
• Aspect Ratio: 1.85:1
• Number of discs: 1
• Classification: 18
• Distributor: KD Media
• Run Time: 98 minutes (approx.)

Region 3 DVD Extras:
• 'Making of' Featurette (47 mins)
• Director & Cast
• Trailer
• Stills Gallery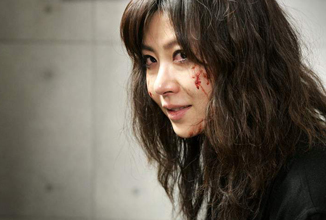 Region 2 DVD:

'Time' has also been released on DVD in the UK by Palisades Tartan as a Single Disc (Region 2) Edition.
The DVD itself comes in a standard amaray package with details of the Palisades Tartan UK DVD release of 'Breath' (also directed by Kim Ki-duk) on the inner sleeve.
As with the Region 3 release, the film is presented as an anamorphic transfer with an aspect ratio of 1.85:1, and thanks to an impressively clean print and a top-notch transfer, image quality is superb - with the scenes set in the sculture park, in particular, looking absolutely sumptuous. There are no image artifacts and no ghosting present, resulting in the picture really doing justice to the stunning visuals throughout.
The original Korean language soundtrack is provided as a choice of Korean 5.1 and 2.0, with each being crisp, clear and noticeably expansive.
Excellent (removeable) subtitles are provided throughout the main feature and for all of the special features.


Region 2 DVD Details:
• Director: Kim Ki-duk
• Format: PAL, Anamorphic, Widescreen, Subtitled
• Language: Korean
• Subtitles: English/None
• Sound: Korean 5.1, Korean 2.0
• Region: Region 2
• Aspect Ratio: 1.85:1
• Number of discs: 1
• Classification: 15
• Distributor: Palisades Tartan
• Run Time: 98 minutes (approx.)

Region 2 DVD Extras:
• 'Making of' Featurette - (47 mins)
• Trailer