"This is a day you'll never forget!..." [The Collector]


Synopsis:
A Netflix Original series, Persona is an anthology consisting of four short films by separate, critically acclaimed Korean directors, but all starring female K-pop icon IU (real name Lee Ji-eun). Each of IU's characters – and indeed each short's situation and setting – are unrelated to the others but collectively they bring a focus to archetypal female personas that have been almost the cornerstone of depictions of women in Korean cinema over the years and decades.

Review:

Served up first, as it were, and also starring hugely popular actress Bae Doo-na is Love Set, directed by Lee Kyoung-mi who many will be aware of as a result of her exemplary 2016 feature debut thriller The Truth Beneath. In Love Set, IU's character (also called IU, just as Bae Doo-na's character is called Doo-na) is insanely jealous of her father's relationship with Doo-na and vehemently opposes their plan to marry. Getting increasingly frustrated watching the two play tennis – complete with grunts and groans that would fit in perfectly at Wimbledon – she challenges Doo-na to a match to determine whether the nuptials will ultimately take place, even though IU's lack of tennis prowess would seem to point to it being near impossible to win. The women's fevered, and from IU's point of view bloodied - tennis battle is of course both physical and metaphorical and IU's refusal to throw in the towel in spite being beaten to the ground – again in both a literal and metaphorical sense – screams of the persona that formed the very origin of the piece, Doo-na's and indeed viewers' gradual understanding of which wholly drives Love Set's ultimate conclusion. Aside from or perhaps as well as the themes present, the most striking element of Love Set is the visual style and image choices made.
From almost the very outset, director Lee Kyoung-mi juxtaposes normal distance framing with hugely intimate close ups – for example, a focus on IU's mouth chomping roughly down on an apple while grudgingly watching her father and Doo-na play setting up her obviously jealously well in advance of her bet/ultimatum; while the camera centring on IU's growing wounds and indeed body sweat screams of both her desperation and her refusal to quit in spite of the odds, again pointing to her resilience and as such the aforementioned understanding of her persona. Not only that but this close up camera work sits perfectly alongside the visuals used in Persona's subsequent short (more on that in a moment) allowing the two films to truly feel like they really do belong together on the anthology.

As a side note, those of you who follow Korean film and interview websites will likely be familiar with
Modern Korean Cinema
, created and run by Pierce Conran for many years. Pierce appears in Love Set as a friend IU brings to tennis court for moral support. He is of course married to director Lee Kyoung-mi and considering his huge passion for Korean cinema (his 2Mr Films production company produces and distributes the film of director Lee Sang-woo) it is great to see him involved in front of the camera, too.
Persona's second short is Yim Pil-sung's The Collector. I was a huge fan of director Yim's Scarlet Innocence (2014) and very much enjoyed his Hansel and Gretel (2007) and as such his involvement in Persona was a significant draw for me.
The Collector focuses on the disintegrating relationship of IU's character and her somewhat older boyfriend, as they spend a day together. In fact, it could be said that the relationship is already entirely in tatters, for while her boyfriend desperately tries to tell her what he thinks she wants to hear, in the hope that his talk of female power etc will rekindle her interest, its increasingly obvious she couldn't care less – repeatedly texting while he's talking and even kissing another man after excusing herself to use the restroom.
As such, the persona of IU's character initially appears to be simply that of a cold, uncaring heartbreaker but while that is indeed partly the case she's ultimately shown to be an absolute femme fatale, Yim Pil-sung underlining her inherent sexuality (and her boyfriend's inability to resist her) with intimate close ups of her eyes and her lips seductively being moistened with her tongue.
Horror elements are also used throughout The Collector in a highly original manner, from severed heads to sliced bodies and the like, to visually represent IU's boyfriend's mental perception of what her coldness is doing to him and these, for me, raised viewer enjoyment to classic Korean horror levels and indeed the horror forming the film's conclusion gives a beautifully surreal and again wholly original take on the narrative theme of how matters of the heart often end for hapless males in relationships with such femme fatales... emotional presented as literal in a perfectly horrific manner.
Following The Collector comes Kiss Burn, directed by Jeon Go-woon whose debut feature was the critically acclaimed Microhabitat in 2018. Kiss Burn tells the story of two schoolgirls' inept attempts at exacting revenge on one of the girl's abusive father and as such it readily speaks of themes and genres regularly referenced in Korean cinema, both features and shorts.
With more down to earth realism than some of Persona's other shorts, Jeon Go-woon offsets the societally critical commentary of familial abuse with genuinely funny humour in the girls' efforts (covering a wooden floor with oil in the hope that the father will slip only to incredulously find he comes into the house with his shoes still on, thwarting their plan entirely, etc) allowing Kiss Burn to feel light-hearted overall and entirely engaging, while discussions between the girls about going to the beach, making out with boys (whose names they don't even know) and getting 'hickeys' point to wholly contemporary attitudes increasingly held by Korean girls while never preaching or criticising them as such, and here too the engaging humour of the dialogue increases engagement yet further.


The final short in Persona is Kim Jong-kwan's poignant Walking at Night, the story of IU's (deceased) character's visit to her boyfriend in his dream to take a walk through some of their city haunts, so to speak, to discuss life, death, love and loss. Considering the fact that a movement towards melodrama is still almost de rigueur in Korean feature cinema, it is wholly fitting that Persona should conclude with what is a genuinely moving, even heartbreaking short, the weight of the film's discussion of societal issues such as youth loneliness and suicide underlined throughout by both black and white filming and Kim Jong-kwan's art house sensibilities.
Of all IU's performances in Persona, her role in Walking at Night struck me as the most naturally, gently impassioned, standing as a moving showcase of her burgeoning acting talent in the wake of a highly successful musical career.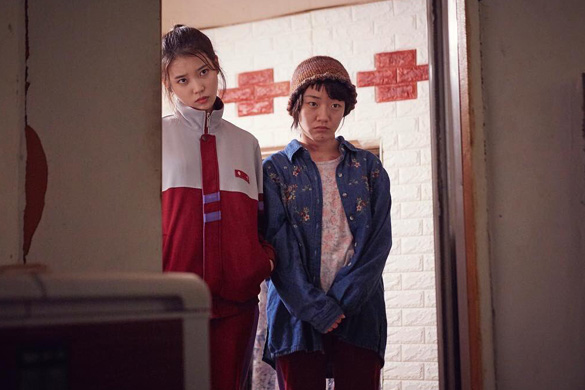 Summary:

An anthology consisting of four short films all starring K-pop star IU, Persona not only showcases her burgeoning acting prowess but also points to the sheer film-making talents of four critically acclaimed directors, in a wholly engaging and memorable manner throughout.





PERSONA (페르소나) / 2019
Directors: Lee Kyoung-mi, Yim Pil-sung, Jeon Go-woon, Kim Jong-kwan
Starring: IU, Bae Doo-na