Synopsis:
Ok-ju (Choi Jung-woon) is a girl of high school age who has lived with her father, Byeong-ki (Yang Heung-joo), and little brother, Dong-ju (Park Seung-joon), in the family's cramped apartment since her parents divorced and her mother moved away. Virtually destitute, Byeong-ki decides to take his kids and move back into his father's house, supposedly temporarily, figuring that for the remainder of the school holidays at least Ok-ju and Dong-ju can keep an eye on their ailing grandfather while Byeong-ki tries to scrape some sort of a living from selling knock-off shoes from the back of his van. It isn't long before they are all joined by Ok-ju's aunt - wanted or not - who, close to divorce herself, moves in to get away from her husband and, with three generations now all living under the same roof, secrets and old, hidden resentments can hardly fail to be brought into the light of day, all viewed from behind the emotional walls Ok-ju increasingly builds. The question is, whether finally moving on and truly letting go is ultimately even possible?...
Review:
In the years, indeed decades, since the emergence of the New Korean Cinema wave of the late 90s and early 2000s, Korean film fans have become accustomed to genre merging being used to bring palpable originality to narratives, in the process giving Korean cinema an ongoing reputation for innovation, stories regularly standing as astute societal commentaries/critiques beneath the veil of entertainment, whether centred on cutting realism, explosive action or fictional flights of fancy. However, equally important to Korean cinema's standing as a whole (though, certainly internationally, somewhat less well known by the masses outside of the Korean cinephile community) are noticeably gentle tales that delicately use the minutiae of everyday life to speak of the very nature of relationships, be they familial; romantic; sexual; platonic; genial; or conversely antagonistic. Whether you consider classic, fairly well known examples of this almost sub-genre (if you will) such as Christmas in August, The Way Home, Lovable, This Charming Girl, My Mother the Mermaid, My Dear Enemy, Little Forest (to name but a few) or look to smaller budget independents and debut features seen by far fewer, like Moon Young, The Land of Seong-hye, Moonlit Winter, Re-encounter, Yeosu and Young-ju, films of this ilk invariably (and beautifully) have a core of movement towards a place (emotionally) of character catharsis, understanding and/or being understood, regardless of the wholly individual nature each separate narrative may have. Sure, such stories are (deliberately) diminutive by their very nature on a cursory glance with no particular protagonist or antagonist, in the process standing as character studies above all else, but that's not a criticism in any respect because, as is the case in real life, tiny, seemingly passing moments can be as important and indeed life changing as any cataclysmic event, if not even more so.
For a fair portion of Moving On's running time, the overall focus of the narrative appears to be familial in a general sense with all characters playing their respective roles within the hierarchy found in virtually any somewhat slightly dysfunctional family unit. However, while that to an extent continues to be the case, certainly playing a continuing part of the overall story throughout, as life moments good and bad inextricably continue to present themselves, Ok-ju's character and story arc gradually move far more to the foreground with the perspective we see as viewers increasingly being hers. Sure, as the events leading to the film's culmination and conclusion begin to unfold in earnest the effect on the majority of characters is clearly shown but it's Ok-ju's understanding of them (or refusal to) that drives the narrative to its ultimate destination, that destination being the feelings she's finally forced to address.
In the early stages of our getting to know Ok-ju, she appears as (and is) a normal teenage girl, tacit at times, stroppy at others; constantly annoyed by her little brother's pleas to sleep in her room and his desire to meet up with their mother (who she hates for abandoning them, certainly from her perspective); repeatedly narked by her father's refusal to give her money for plastic surgery and (later) his plans and decisions in relation to the house made behind her grandfather's back; and indeed confused about her boyfriend's true feelings, as he only ever spends time with her when she is the instigator of a date.
However, it increasingly becomes clear that she has built a psychological wall brick by brick against feelings of being left by those she shows (or would have shown) love to, fuelled largely by her feelings of abandonment in relation to her mum. Certainly, Ok-ju is likely unaware, even, that she's built such emotional defences but as such the chances of her changing her mindset are slim, to say the least. In fact, whether she realises it or not the aforementioned decisions made about her grandfather and his estate without his knowledge fuel her belief that they're essentially discarding him/throwing him aside for their own ends rather than his best interests and underline her subconscious feeling that if you open yourself those around you will leave you in the cold. From a viewer's perspective, it's obvious that if Ok-ju has any chance of moving on, moving forward, that mindset must change and her barriers must drop, but that can only happen if she realises that those leaving may have to whether they want to or not, rather than leaving to get away or discard others.
That thought is at the very core of Moving On and Ok-ju's ultimate, poignant, realisation is the film's greatest strength (helped yet more by a phenomenal performance by Choi Jung-woo in two key, hugely emotional, scenes) and stands as a further underlining of Moving On 's absolutely true-to-life realism.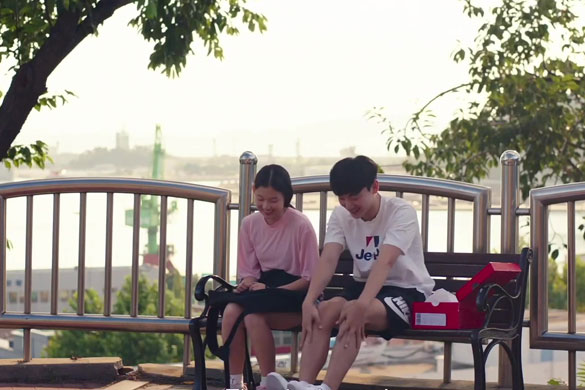 Debut feature director Yoon Dan-bi has said that memories of the emotions she felt dealing with the death of her grandmother played a big part in her desire to make Moving On. Those feelings infuse the narrative palpably in its latter stages (again seen through the eyes and perspective of Ok-ju) to the extent that viewers can hardly fail to find them as wholly believably real as they clearly were/are for the director herself.
Not only that, but those who in their own lives have seen elderly relatives moving through their twilight years with increasing difficulty, wholly aware they have no control whatsoever over their loved ones' inexorable traipse towards the sadly inevitable, will – I virtually guarantee – find Moving On speaking directly to their own memories of the past and as such in spite of the film being Korean by its very nature Moving On, for me at least, felt as personal as any fictional film could possibly be.

Summary:

Gentle, nuanced and heartfelt, Yoon Dan-bi's Moving On deftly uses the minutiae of everyday life to tell an easily relatable, poignant tale that will feel wholly personal to viewers, especially those who have watched elderly relatives becoming increasingly frail as they wearily move through their twilight years.
MOVING ON (남매의여름밤) / 2019
Director: Yoon Dan-bi
Starring: Choi Jung-woon, Yang Heung-joo, Park Hyun-young, Park Seung-joon, Kim Sang-dong



This review comes as a result of Moving On being screened as part of the 2020 London Korean Film Festival: koreanfilm.co.uk
Facebook: @theLKFF
Twitter: @koreanfilmfest
Instagram: @london_korean_film_festival