"Don't drink that, it'll only keep you alive.
What's the point of living like this, why don't you just die? Wouldn't that be better for both of us?
I honestly wish you were f*cking dead! Why aren't you f*cking sorry for even being alive?..."


Synopsis:
Having been convicted of a serious crime back in her teens, Baek Sang-ah (Han Ji-min) has pretty much resigned herself to surviving as best she can with one lowly paid, menial job after another and regardless of protestations from her policeman friend (and likely more) Jang-seop (Lee Hee-joon) she resolutely refuses to even consider trying to improve her lot.
On coming across a dishevelled, underdressed little girl (in spite of Seoul being in the grip of a harsh winter) shivering outside a shuttered store at night, Miss Baek – as she instructs the child, Ji-eun (Kim Si-ah), to call her – puts her jacket around her and takes her for food, until her seemingly polite, caring and friendly guardian, Mi-kyeong (Kwon So-hyun), arrives to take the girl home.
However, on subsequently seeing Ji-eun in an even worse state on yet another street corner, wounds and bruises on her arms and legs convince Miss Baek of what she already suspected – that the child is the victim of brutal domestic abuse. Increasingly fearing that Ji-eun's life is in imminent danger, Miss Baek decides it's up to her to rescue and save this innocent child, even if doing so once again puts her on the wrong side of the law...
Review:
Miss Baek opens with the discovery of the body of an elderly woman in an apartment, the corpse already decomposing having lain undiscovered for a month. As one of the main policemen called to the scene, Jang-seop looks through some of the woman's possessions and on finding a picture of her in her younger years with a child he comes to the realisation that she was Baek Sang-ah's mother (played by Azooma's Jang Young-nam). This of course leads to viewers being introduced to the character of Miss Baek, as Jang-seop visits her working at a car wash to give her the news of her mother's demise, but in under ten minutes first-time feature director Lee Ji-won has also expertly (and powerfully) laid out the demographic of Miss Baek's relationship with Jang-seop at the same time as pointing to the deep, ongoing psychological scars faced by our heroine and explaining their roots in no uncertain terms – be it her avoidance (and indeed her hatred) of her mother; her refusal to allow Jang-seop to help her better her existence (him butting into her life, as she puts it) and his repeated suggestion that they marry ("People like me don't deserve married life"); or her almost breaking down in periods when she's alone. Lee Ji-won even finds time in this succinct pre-title period to briefly flash back in time to detail the crime Miss Baek was convicted of in her teens (when she first met Jang-seop) and reference the resultant actions taken by her mother that landed her too with a conviction and jail sentence.
While all of the above takes place within just 12 minutes of the film's opening, these scenes feel wholly natural – never rushed or harried, in any respect – and in fact they are so expertly crafted with depth almost inherent to them that by the time Miss Baek has her first interaction with little nine-year-old Ji-eun viewers can almost be guaranteed to feel that they know this woman wholly and intimately to the extent that in subsequent scenes where her expressions speak as loudly as her words there's no question whatsoever as to what's going on in her mind. However, it is as our unlikely heroine's interactions with nine-year-old Ji-eun get underway, their involvement grows and the frightened little girl's terrible plight is ever so gradually revealed that Miss Baek's real strengths truly begin to show, and I can honestly say without any exaggeration whatsoever that those strengths are numerous to the nth degree.


Tiny yet wholly significant visual flags point to the reality of little Ji-eun's dire domestic situation from the very beginning of her interactions with Miss Baek even before she or indeed viewers start to notice the bruises and wounds on her diminutive frame – when the child, for example, accidentally knocks over a glass of water in the restaurant, Miss Baek turns and begins to reach down to pick it up causing Ji-eun to noticeably flinch and instantly raise her arm up in front of her face to protect herself from the physical blow she obviously assumes is about to be given; and when her guardian enters the restaurant and asks Ji-eun why she's there, Miss Baek suddenly realises the child is holding her hand, squeezing her fingers in what is without question absolute terror – but while these flags deftly foreshadow our realisation of the shocking treatment she receives from those entrusted with her 'care' (and, yes, that word really does need to be placed in parentheses here) nothing... nothing... can possibly prepare viewers for the sheer level and extent of the abuse she is constantly subjected to.
In fact, even seeing this innocent child languishing bruised and bleeding on the bathroom floor (not even being given a mattress to sleep on) or indeed tied up outside in the laundry area of the apartment while her guardian absolutely pampers the family dog only scratches the surface of the appalling, viciously brutal treatment lashed out to this (essentially still) baby girl.
As such, Miss Baek is not an easy watch in any respect but it is heartbreakingly gripping nonetheless and that's even before you take into consideration the fact that the narrative is based on a true story, some aspects changed only for storytelling purposes. They (whoever 'they' are) say that truth is often stranger than fiction but with Miss Baek Lee Ji-won resolutely states that reality can also be far more heartbreakingly and shockingly horrific than any imagined nightmare ever could.

Over the years in Korean cinema, an absolute myriad of films have focused on issues relating to domestic/child abuse on the Peninsula, either true-life based or fictional. Miss Baek underlines the extent of the issue by both referencing the discovery of a young boy's clearly abused, discarded corpse and the conviction of his parents for his murder and indeed pointing to the historical abuse of not only Baek Sang-ah as a child but also Ji-eun's alcoholic father in his youth. However, while a fair few of such films push the overarching statement of violence begetting violence, Miss Baek provides societal commentary far more thought provoking: Sure, Ji-eun's father growing up in an abusive household and blaming his past for his own present day abuse of his daughter could indeed point to resultant cross-generational cruelty if it was referenced alone, but the fact that Miss Baek was, too, maltreated as a child and now has only the desperate desire to protect and save the innocent child speaks of the fact that any such societal issues cannot be explained away as easily as simply blaming the historical decimation of one childhood for the present day destruction of another.
Not only that, but in depicting the character of Ji-eun's guardian as an outwardly polite, caring and upstanding church-going member of society, while underneath she is in reality a conniving, self-serving, nasty piece of work, Miss Baek points to the fact that abuse can all too easily lurk beneath the surface in places no-one would straight away expect and resolutely states that issues of abuse and the like can only ever come even close to being tackled if we truly pay attention to what's in front of us behind the smiles and, more than that, only if we actually take the time to care.
In short, Miss Baek's ultimate statement is as important and socially aware as it is powerful within a story made all the more grippingly poignant by its basis in reality.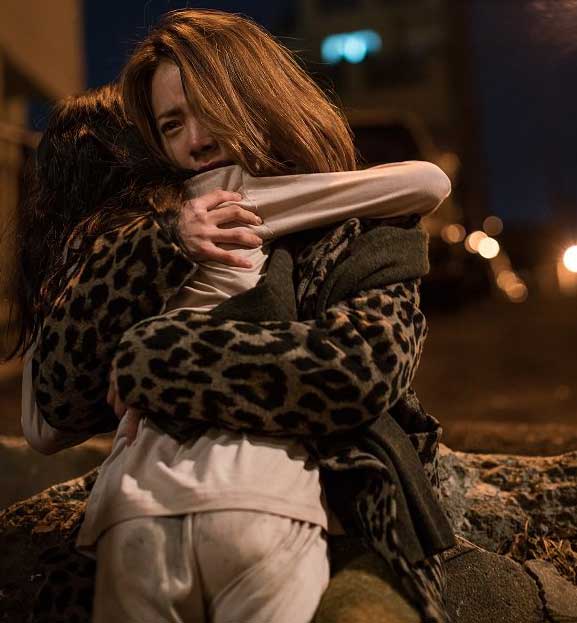 As a final note, in terms of character arcs it might initially appear that Miss Baek is simply a story of a woman attempting to save and protect a vulnerable child. However, here too director Lee Ji-won (who also wrote the film's screenplay) imbues the characters' growing bond with a far greater depth: At one point, after Miss Baek shows Ji-eun the wounds on her own body, stating that "I'm the same as you", she promises Ji-eun that she will save her at all cost and the child responds that she'll do likewise. It doesn't take much to realise that Baek Sang-ah's growing love for little Ji-eun changes her outlook from essentially having given up on everything to having a life with a real and vital purpose and as such the child's statement is entirely portentous from a wholly positive perspective. For, these characters' needs, desires and narrative arcs are absolutely symbiotic and while Miss Baek is trying to save Ji-eun simply to give her the childhood that she deserves, in doing so she is herself being saved every bit as much by this innocent little girl. As such, in Ji-eun's proclamation never a truer word has been spoken, its realisation being of paramount importance to the narrative as a whole, bringing with it an ultimately uplifting quality that is guaranteed to stay with you long after the credits roll.
Summary:

An exemplary film in every respect, Miss Baek certainly isn't an easy watch but it is nonetheless an absolute must-see, as grippingly important to Korean cinema as a whole as it is heartbreakingly powerful in its own right.
MISS BAEK (미쓰백) / 2018
Director: Lee Ji-won
Starring: Han Ji-min, Kim Si-ah, Lee Hee-joon, Kwon So-hyun