"You think I've done something?
A*shole! You're treating me like this because you love that bitch! B*stard!!!..."


Synopsis:
Im Tae-san (Choi Min-sik), president of the Taesan Group conglomerate, is in a committed relationship with popular singer Yoo-na (Lee Ha-nui; aka Honey Lee), much to the consternation of his daughter Mi-ra (Lee Soo-kyung). On attending a student reunion at a popular nightclub in Gangnam, a severely drunken Mi-ra is shown a video of Yoo-na having sexual intercourse with another man and instantly going postal she messages her father's lover demanding that they meet immediately.
The next morning, Mi-ra regains consciousness in her car – the vehicle clearly having been involved in a serious accident – to find herself surrounded by police and, though she claims to have no memory whatsoever of the preceding night, she is straight away arrested for Yoo-na's brutal murder.
Tae-san, however – in spite of initial evidence showing Mi-ra in a less than positive light – refuses to believe his daughter could be guilty of such a heinous crime and vows to use his money and influence to both clear her name and bring the real perpetrator to justice...
Review:
Heart Blackened begins with the first meeting of Mi-ra and Yoo-na at an upmarket restaurant, overseen by Tae-san. Initially polite if somewhat tense, the interaction of the two seems to be going fairly well – Yoo-na even holding Mi-ra's hand, prior to Tae-san joining them – until Yoo-na removes a book belonging to Mi-ra from her handbag; featuring pictures of Mi-ra, her mother and Tae-san from her childhood days. Instantly, Mi-ra goes on both the defensive and offensive, and in one fell swoop her animosity for the woman she will never allow to take the place of her mother begins to burn, never to be quelled.
Jumping to one year later in proceedings (in fact to the very night of Yoo-na's murder), director Jung Ji-woo deftly and succinctly references the ongoing and increasing animosity Mi-ra feels towards Yoo-na simply by mention of the difficulty of the situation in a conversation between Yoo-na and Tae-san aboard his yacht. While many another would have felt the need to include scenes at this stage of arguments and altercations of the two women at odds, by instead using only obvious implication and simple statement (for example, shortly after being arrested, Mi-ra screams at her father "You're treating me like this because you love that bitch!") Jung Ji-woo negates the need for such protracted inclusions; ensuring the soon to be deeply involved narrative is never slowed unnecessarily nor drawn away from events directly relating to the murder itself and the subsequent investigation into it.
In the lead up to, and indeed during, Mi-ra's murder trial, several of Tae-san's actions raise questions about his motivation: Here we have a rich, powerful man vocal in his determination to clear his daughter's name, so why does he agree to employ a young, inexperienced lawyer (Choi Hee-jeong, played by Park Shin-hye) to defend Mi-ra; when Tae-san discovers an 'assassination game' on Mi-ra's laptop –a computer game made by her in which an avatar of Yoo-na is strangled and stabbed by an avatar of Mi-ra, is dragged onto a balcony and thrown to the ground below while the Mi-ra avatar laughs – why does he instantly instruct his subordinates to post the 'game' on Facebook and make it widely available online; and when the trial is at a pivotal point, why does Tae-san suddenly insist on taking time away to travel to Thailand on 'business'? Passing spoken 'reasons' for each of these seeming incongruities is given at the time of their inclusion in the narrative but though they may at least be partly true as viewers will later discover they are as much excuses as anything else; the truth state of play behind each being far more deftly layered and beautifully involved than is initially apparent. In any such drama – courtroom or otherwise – where viewers piece together a complete story over time in tandem with the characters, there could of course be accusations of lying by omission, but in the case of Heart Blackened, to my mind at least, the (deliberate) feeling of disparity between action and motivation these moments bring essentially drives viewers to see them as clues to figuring out an outcome ultimately far more unpredictable than many would imagine.
A major 'reveal' prior to the film's ultimate conclusion claims to fully explain these various incongruities. However, the fact that it seemingly tells the whole story while half an hour of the running time remains screams yet further of well-crafted layer within narrative layer, virtually guaranteeing viewer surprise at one major point or another regardless of all or any audience predictions, accurate or not though those predictions may be.
There are also repeated references throughout Heart Blackened by Tae-san relating to his wealth and power and even the inequality between the haves and have-nots in Korean society, with the clear implication that he feels those inequalities are not only inescapable but also the way things should be. While these are largely just statements by one self-important individual with no particular attached commentary or dissection, it's clear that director Jung Ji-woo is showing how easily money can make certain types of individuals truly believe they are better than those without, and that is indeed an ongoing issue within Korean society as a whole.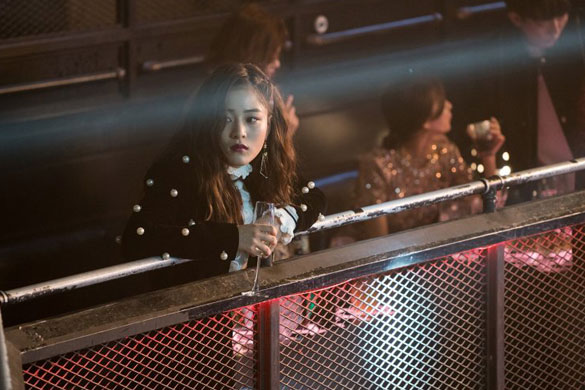 Though Heart Blackened is loosely based on the 2013 Chinese film Silent Witness, the pacing of Jung Ji-woo's Korean version is far more measured than the noticeably over-pushed, even jarring, speed of director Fei Xing's original. I say 'loosely based on' because though Jung Ji-woo sticks largely to the same story ideas and plot twists of Silent Witness for a fair portion of Heart Blackened, he manages to bring enough originality to the narrative to ensure the film never feels like just a rehash. In fact, considering the themes present of love, hate, sacrifice and death, Heart Blackened could almost be considered as a modern day re-telling of a Pansori-type tale, and as such the film ultimately feels utterly Korean through and through.
The decision to split the narrative into trial segments, ongoing 'real time' plot developments and flashbacks gradually unveiling the chain of events surrounding and subsequent to Yoo-na's murder also works incredibly well; the somewhat slower (obviously), largely sedentary courtroom sections regularly peppered with moments of both action and intrigue, in the process ensuring that the narrative never feels like it's dragging in any respect and allowing it to tantalisingly unveil its secrets at a wholly natural pace without a fear of stagnation in any respect.
Visually, Heart Blackened is absolutely stunning. Early scenes such as those showing Yoo-na in a singing performance and in a romantic yacht outing with Tae-san are utterly sumptuous, easily equal to the visual beauty seen in huge budget Korean Japanese-set pieces or historical tales that have taken the Korean box office by storm in the last few years, the former even evoking thoughts of such. Similarly, scenes set in upmarket Gangnam – including a high-end, pulsing nightclub – shimmer with all the glitz, glamour and opulence that one would expect, and even the more gritty segments of the film have a cinematic sheen, if you will. Heart Blackened's story certainly doesn't require it to be seen on the big screen, but its gorgeous cinematography nonetheless invites exactly that.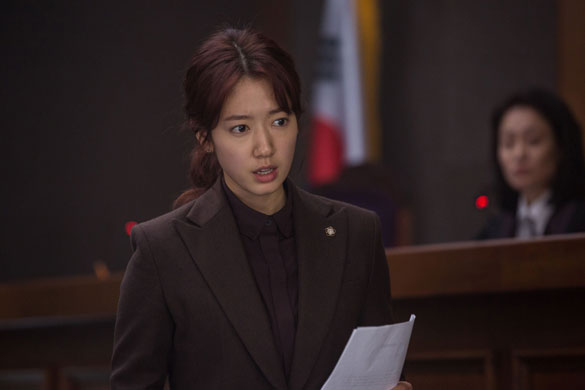 The acting in Heart Blackened is accomplished throughout, with Park Shin-hye (Hee-jeong), Lee Ha-nui (Yoo-na) and Lee Soo-kyung (Mi-ra) in particular standing out as well cast in their roles. However, make no mistake, this is Choi Min-sik's film from start to finish; his absolutely exemplary performance as Tae-san raising the film to noticeably greater heights on numerous occasions. As one of Korea's best actors for the guts of the past 30 years, Choi can always be relied upon to raise the performance bar of virtually any film but in Heart Blackened he surpasses even himself, if such a thing is possible. Here we see a combination of hard-hitting, cold and heartless elements as seen in his recent big budget roles as gangsters and corrupt businessmen with far more, hugely nuanced emotionality that could be said to come straight from his far softer, more in-depth character portrayals in classic films such as Happy End (also directed by Jung Ji-woo), Failan and even the altogether lighter Springtime. The list of films with pitch-perfect acting from Choi Min-sik of course continues to grow year in, year out, but his performance in Heart Blackened easily stands alongside the best of the best, and that really is saying something.
Ultimately, Happy End and Eungyo have already highlighted Jung Ji-woo's talents as an exemplary and important film-maker and director. Heart Blackened underlines those talents yet further.

Summary:

Heart Blackened is a visually sumptuous, multi-layered and beautifully involved tale of love, hate, sacrifice and murder. While based on the 2013 Chinese film Silent Witness, director Jung Ji-woo brings enough originality to proceedings to ensure the film never feels like simply a rehash. In fact, considering the themes present, Heart Blackened could almost be considered as a modern day re-telling of a Pansori-type tale, and as such it ultimately feels utterly Korean through and through. 


You can read the 2012 London Korean Film Festival Interview with director Jung Ji-woo (featuring Hangul Celluloid) at:
http://www.hangulcelluloid.com/jungjiwoointerview.html
HEART BLACKENED (침묵) / 2017
Director: Jung Ji-woo
Starring: Choi Min-sik, Park Shin-hye, Lee Soo-kyung and Lee Ha-nui